Made in the Midlands
Here at Pashley we are very proud of our 97 years of manufacturing heritage and the fact that we continue to hand-build our bicycles and tricycles at our factory in Stratford-upon-Avon, in the Heart of England.

Cycles are lovingly welded or brazed, powder-coat painted and assembled here in the factory. We use both modern and traditional manufacturing methods allied to modern materials and componentry to make our unique cycles, and ensure that they are of the highest quality for our customers around the world.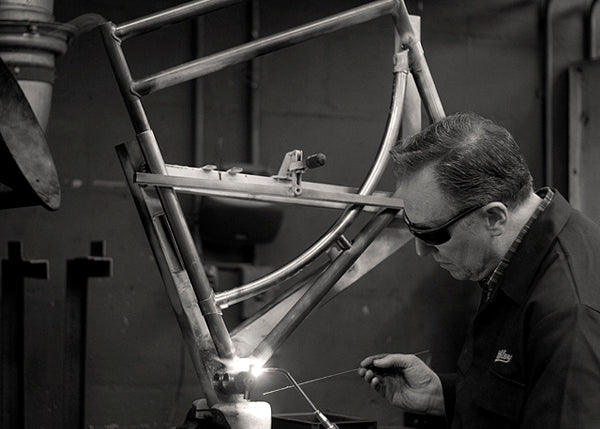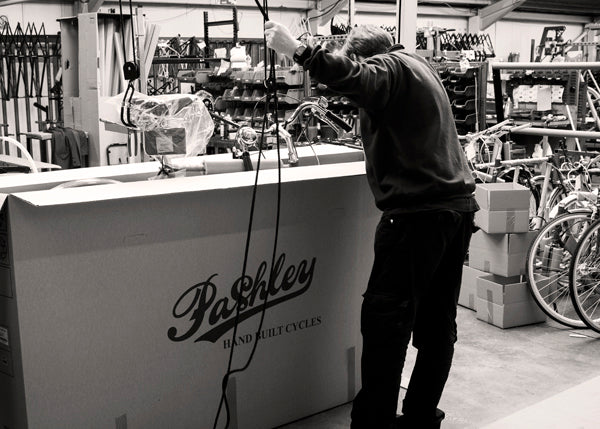 Building a Bike
We really do hand-build our cycles here, from the brazing of the raw steel to create the cycle frame, through to the final assembly of the cycle where its components and finishing touches are added.
The steps of hand-building a bike...

1. Frame tubes are manipulated into shape using bending machines (if required).

2. Tubes are then mitred (cod-mouthing) so they fit together (beneath the lugs); this is done in the machine shop.

3. Tubes are then hand-assembled to form the frame.

4. Tubes are then brazed (with brass) in a jig in the brazing bay (some frames are also still brazed in the hearth).

5. 'Braze-ons' (e.g. cable guides) are then also brazed-on.

6. The frame is then slotted and reamed in the machine shop – e.g. slotting of the seat clamp slot; and head-facing/reaming of the head tube, that cleans the head tube for the headset bearings fitment.

7. The frame is then hand-cleaned of all surplus brass and swarf (a process called fettling).

8. It is then sand blasted to clean the frame surface for painting.

9. The frame and other fittings (e.g. mudguards and chaincase) are then sprayed with a powder base coat, and put through the oven to cure. Some mudguards are then pinstriped (by hand) and some frames have graphics applied, and a top lacquer is then sprayed on all components and they go into the oven again.

10. When the frame and fittings have cooled, any additional graphics are applied.

11. The frame is then prepped for assembly: the bottom bracket in fitted, the headset bearing pressed in, and any racks are fitted. The frame is then wrapped with crepe paper.

12. The cycle is then assembled by the assembler: this involves the fitting of the remaining components, such as the wheels, brakes, handlebars, bells, and baskets.

13. After quality-checking, the assembler carefully boxes the cycle and takes it to our dispatch area, ready for collection.

14. The cycle is then collected and shipped to a Pashley dealer or commercial customer, in one of 50 countries around the world.