Pashley x Morgan
A collaboration between two iconic British companies.
Pashley x Morgan
A collaboration between two iconic British companies.
Hand-crafted
The Pashley-Morgan range of bicycles brings together the design and manufacturing talents of two iconic family-owned British companies, Pashley Cycles and The Morgan Motor Company.

Every Pashley-Morgan bicycle is expertly crafted and unique: hand-built to the highest standard by passionate craftspeople, who perfect their skill over a lifetime to bring together heritage, innovation and cutting-edge technology. With a shared passion for craft, a sense of adventure and centuries of combined commitment to their product, Pashley and Morgan were two British brands waiting for the perfect opportunity to collaborate.
The Range
First launched in 2018, the Pashley-Morgan 3 and Pashley-Morgan 8 captured the imagination of customers from both companies around the world. Such was the success that we joined forces once again in 2019 to launch the Pashley-Morgan 110 Limited Edition cycle, marking Morgan's 110th birthday. Now, in 2023, we have evolved the Pashley-Morgan 3 and Pashley-Morgan 8 – and have introduced a new sibling... the Pashley-Morgan 10.

The Pashley-Morgan bicycles have a distinctive hand-crafted frame which features a curved top-tube design, mirroring the gentle sloping shoulder line of Morgan cars. It is bead fillet brazed using Reynolds 631 tubing and incorporates a frame mounted race plate, distinctive S-bend seat stays and unique track ends with etched stainless faces.
Classic
Pashley-Morgan 3
Lighter and more stripped back than its predecessor, the latest edition of the Pashley-Morgan 3 is a fitting evolution to the entry level cycle in the range.
Learn more
Iconic
Pashley-Morgan 8
The most popular of the cycles in the Pashley-Morgan range, the '8' is a café racer bicycle, with an alluring monochromatic silver finish.
Learn More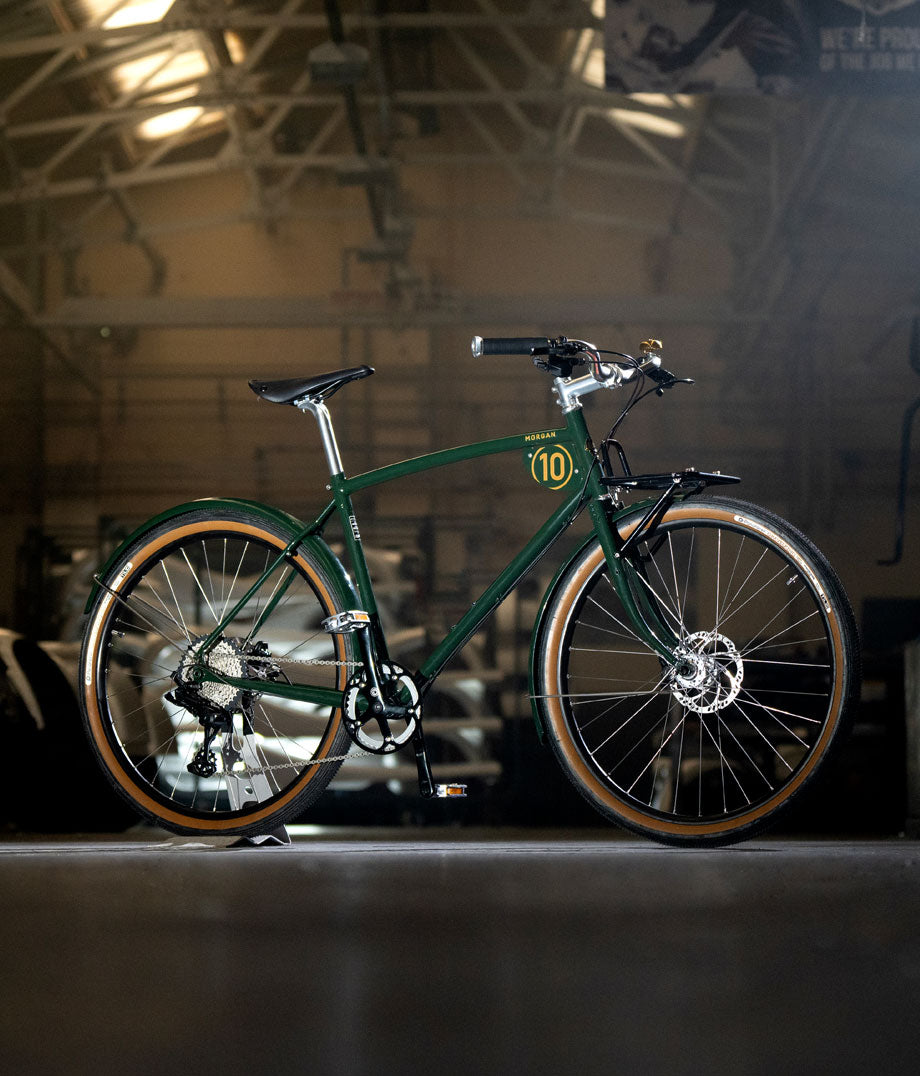 EVOLVED
Pashley-Morgan 10
The Pashley-Morgan 10 is the latest addition to the range. With a derailleur gear setup, raised bars, front rack, and full mudguards the 10 is designed for all-season practicality.
Learn more
"We're immensely proud of our continued close collaboration with Morgan, an iconic British company we share many similarities with, including our unrivalled heritage, design innovation and craftsmanship. This is evidenced in the evolution of the beautiful bicycles we have produced together."
Test Ride
Try before you buy
Visit our local cycle shop in Stratford-upon-Avon to test ride a Pashley. For more info please click the button below to visit The Traditional Cycle Shop website: